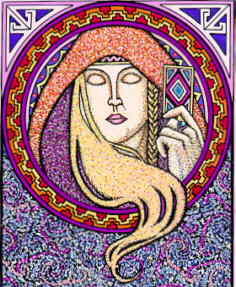 Comedy-drama or dramedy for short. The Dramedy of Life is a personal journal that reflects the author's daily life. A very apt title and a cool one too.
Visual Aesthetics – 10

Purple everywhere but not too much of it. The color scheme combined with the curvy title font used gives the blog a very nice feminine feel. The photos inserted in her posts also add to the overall look of the blog making it look lively and interesting.
User Friendliness – 9

The Dramedy of Life uses a very simple two column layout with the navigation features found on the sidebar. She made us of drop down menus for the archives and categories making it navigation between posts really easy and very neat. One of the user friendly things that make the blog stand out is that the author uses tags to explain some of the words the reader might not understand or know the background of. My one and only problem with Dramedy is that it doesn't render correctly in Firefox 2.0. This is really strange since the author is a Firefox fan.
Reading Enjoyment – 9

Dramedy makes for a good leisure read. Some posts however might not be interesting to a casual reader since just like in any personal blog you usually need to know the author on a personal level to appreciate the story being told.
Useful Info – 6
Being a personal blog you can't expect The Dramedy of Life to dish out much useful information. As usual you can garner bits and pieces of information here and there but useful information is obviously not the point of this blog.
Overall Experience – 9

The Dramedy of Life is pretty good for a personal blog. The posts are only as interesting as any personal blog can get. This blogger should get a pat on the back though for her layout and blog's overall look. One of the rare blogs where simplicity, good taste, and function manages to rule together.
[tags]Personal Journal, Diary, Dramedy, Comedy, Drama[/tags]