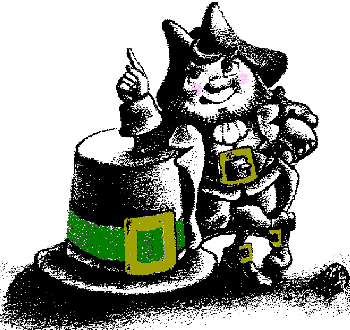 Proudly Irish, down to the green background and daily doses of Irish jokes. (Did you ever the one about the leprechaun and?) Not all entries are fun and games, though; occasionally, the blogger talks about faith and invites readers to send prayer requests. There's a counter that crosses off the days till St. Patrick's, and pictures of the Ireland countryside.
Visual Aesthetics – 7
Have you ever been tipsy, and experienced the sensation of fumbling around, not quite knowing where you are or where to look, and getting a wee headache from having to try too hard to accomplish a relatively simply task? That's what this blog can sometimes feel like. Still, it's fun in an a topsy turvy sort of way in this world of neat little blogs made for Adsense clicking.
User Friendliness – 7
Messy and an eternity to load. Poor choice of fonts and a very complicated format for blog reading and leaving comments- with one having to scroll down the page for about half a day before seeing where the bread is. Quite a neat- if badly placed- tag board though!!
Reading Enjoyment – 8
The Irish jokes, St. Patrick's Day and even snippets of Celtic can be interesting to fellow Irish. But there's not much about the country or the culture, or any personal anecdotes that can give you a sense of the unique local flavor that he's obviously so proud of. Lapses in grammar and coherence can also be distracting. I'm a sucker for the cliches, though, and this blog is full of them- especially in matters of faith.
User Info – 7
In a funny sort of way, you will get an informed feel on Ireland in this blog in that you're likely to leave knowing less than when you arrived. Confusing and charming, witty and mischievous, little substance- while suggesting huge depth. The list goes on….
Overall Experience – 7
This blog is well worth visiting. One senses that one might even make a friend in the good Doctor. There is much that needs improving in this blog, but the potential is certainly there…