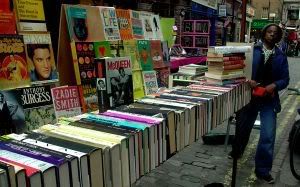 A collective blog by and for book lovers. Contributors are mostly writers themselves so they really know what they're up to. A bilingual (Spanish and English) blog with lots of information about writing, books, and writers.
Visual Aesthetics – 9
Very nice clean look without the clutter I hate so much. Not too much colors to take away one's focus from the posts and just enough images for visual relief.
User Friendliness – 6
The blog navigation is fairly straightforward and the posts are very readable. I have no complaints about the loading time either BUT I do think that this blog needs a little more organization. Posts are too eclectic and I can't figure out what they really want to specialize on. It would be a good idea if they put out a separate page for literary sounding posts, for personal posts that focous on the authors and their reflections,  the informative posts (this includes book reviews and other news), and for announcements to contributors. The main blog could contain the whatever they deem to be the blog's real essence so that readers can know what to expect when reading. As of now it's just too disorganized.
Reading Enjoyment – 8
Due to the nature of the Book's Den each post has a very different feel from the next. It is a bit too eclectic since some posts sound newsy or informative while others are more literary in nature. I do enjoy some of the posts but I can't say that they are all enjoyable. The bilingual nature of the blog makes it interesting but I definitely can't say whether the Spanish posts are as great as they seem to be (being silly as I am any language I don't understand looks really cool to me).
User Info – 10
Plenty of information here for readers and writers alike. You'll find reviews of old an new books alike, you can meet real authors, and you can read on everything about their life as writers. Of course you can also join occasional contests wherein they give away books as prizes.
Overall Experience – 8
Pretty eclectic in terms of content but this blog definitely has potential. The contributors write very well but they need to organize or at least come up with a more thematic way for posting.
[tags]Writers,Authors,Book Review,Book Release,Contest,Authors[/tags]